By John Glaser, Antiwar.com

The U.S. is leading an effort to water down an international ban on cluster bombs, weapons that are widely considered to be inherently indiscriminate.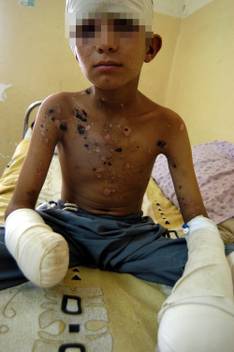 Ahmed Kamel, 12-year old Iraqi, victim of US cluster bomb
The Convention on Cluster Munitions prohibits cluster munitions, requires the destruction of stockpiles within eight years, and has been signed by 111 countries, while the U.S. has steadfastly refused to sign it. In a proposal that meant to neuter the convention, Washington now is pushing to permit the use of cluster bombs as long as they were manufactured after 1980 and had a failure rate of less than one per cent.
The Convention began to take effect in June 2010, just after a U.S.cluster bomb killed 35 women and children in Yemen, with the Pentagon stubbornly refusing to admit to the wrongdoing despite damning evidence compiled by Amnesty International, which was later corroborated by classified diplomatic cables released by WikiLeaks.
UK backs bid to overturn ban on cluster bombs
Campaigners say US-led proposals to water down global ban give a 'green light' to use the weapons

U.S. takes the lead on behalf of cluster bombs

Slightly more than two months after he was awarded the 2009 Nobel Peace Prize, President Obama secretly ordered a cruise missile attack on Yemen, using cluster bombs, which killed 44 innocent civilians, including 14 women and 21 children, as well as 14 people alleged to be "militants." It goes without saying that — unless you want Rick Perry to win in 2012 — this act should in no way be seen as marring Obama's presidency or his character: what's a couple dozen children blown up as a part of a covert, undeclared air war? If anything, as numerous Democrats have ecstatically celebrated, such acts show how Tough and Strong the Democrats are: after all, ponder the massive amounts of nobility and courage it takes to sit in the Oval Office and order this type of aggression on defenseless tribal regions in Yemen. As R.W. Appel put it on the front page of The New York Times back in 1989 when glorifying George H.W. Bush's equally courageous invasion of Panama: "most American leaders since World War II have felt a need to demonstrate their willingness to shed blood" and doing so has become "a Presidential initiation rite."