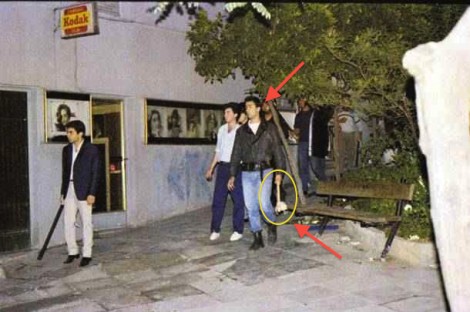 See the guy in the photo there, dangling an ax from his left hand? That's Greece's new "Minister of Infrastructure, Transport and Networks" Makis Voridis captured back in the 1980s, when he led a fascist student group called "Student Alternative" at the University of Athens law school. It's 1985, and Minister Voridis, dressed like some Kajagoogoo Nazi, is caught on camera patrolling the campus with his fellow fascists, hunting for suspected leftist students to bash. Voridis was booted out of law school that year, and sued by Greece's National Association of Students for taking part in violent attacks on non-fascist law students.
With all the propaganda we've been fed about Greece's new "austerity" government being staffed by non-ideological "technocrats," it may come as a surprise that fascists are now considered "technocrats" to the mainstream media and Western banking interests. Then again, history shows that fascists have always been favored by the 1-percenters to deliver the austerity medicine.
This rather disturbing definition of what counts as "non-ideological" or "technocratic" in 2011 is something most folks are trying hard to ignore, which might explain why there's been almost nothing about how Greece's new EU-imposed austerity government includes neo-Nazis from the LAOS Party (LAOS is the acronym for Greece's fascist political party, not the Southeast Asian paradise).
Which brings me back to the new Minister of Infrastructure, Makis Voridis. Before he was an ax-wielding law student, Voridis led another fascist youth group that supported the jailed leader of Greece's 1967 military coup. Greece has been down this fascism route before, all under the guise of saving the nation and complaints about alleged parliamentary weakness. In 1967, the military overthrew democracy, imposed a fascist junta, jailed and tortured suspected leftist dissidents, and ran the country into the ground until the junta was overthrown by popular protest in 1974.
That military junta—and the United States support for it (for which Clinton apologized in 1999)—is a raw and painful memory for Greeks. Most Greeks, anyway. As far as today's Infrastructure Minister, Makis Voridis, was concerned, the only bad thing about the junta was that it was overthrown by democracy demonstrators. A fascist party was set up in the early 1980s in support of the jailed coup leader, and Voridis headed up that party's youth wing. That's when he earned the nickname "Hammer." You can probably guess by now why Greece's Infrastructure Minister was given the nickname "Hammer": Voridis's favorite sport was hunting down leftist youths and beating them with, yes, a hammer.